Pioneer Water Tanks for all your rural and agricultural needs
Designed for Australia's harsh and demanding conditions, Pioneer water tanks are manufactured in Australia and have received the prestigious Australian Design Award.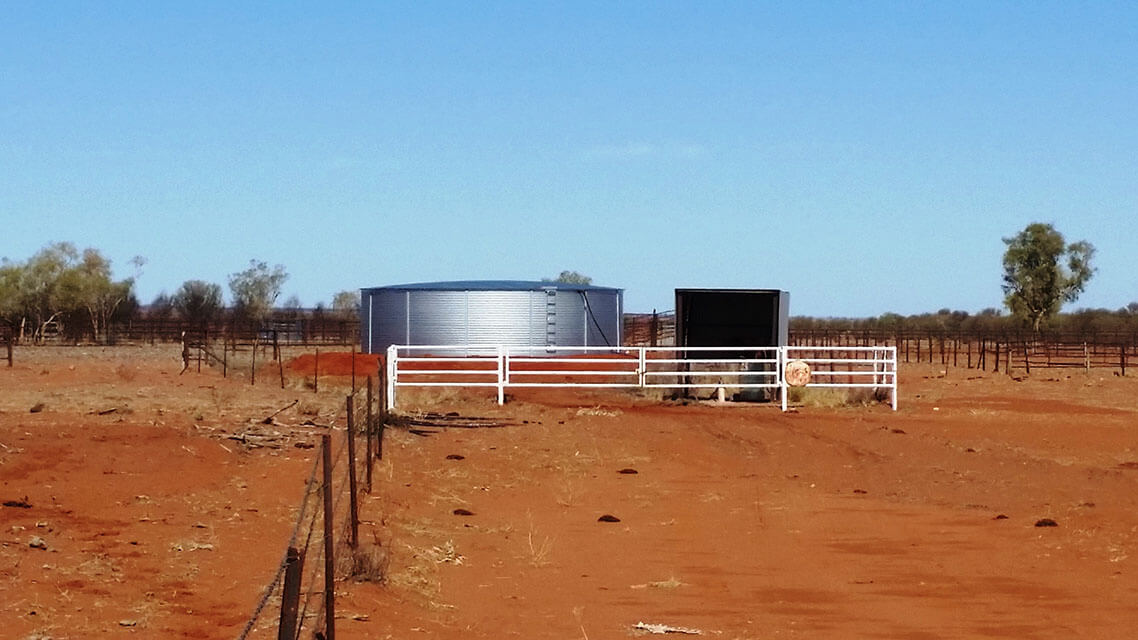 Australian rural communities depend on water storage systems to survive. For over two decades, Pioneer Water Tanks has supplied rural Australia with water tanks for all types of farming and domestic applications.
Built with strong and durable BlueScope Zincalume® or Colorbond® Steel, using the exclusive v-lock profile, Pioneer Water Tanks can be designed to fit any environment.
For where water is its most precious, fire protection can be added, as well as an exclusive range of liners which guarantee the highest quality drinking water and maximum water storage safety possible.
Throughout Queensland, Victoria, South Australia, New South Wales, Western Australia, Northern Territory and Tasmania, farms are the backbone of Australia. The backbone of Australia requires the best protection for one of its most essential resources.
Don't take any chances. To protect your valuable asset and access it where and when you need it, demand
Available sizes for Pioneer domestic, rural and agricultural water tanks
Model
Litres*
Gallons*
Diameter
Height
Standard inclusions – no hidden costs or "domestic upgrades"
GT10
12,241
2,690
2.67m
2.18m
– 50mm outlet and valve
GT20
19,126
4,204
3.34m
2.18m
– 150mm overflow, down pipe and flap valve
GT30
27,542
6,053
4.01m
2.18m
– leaf litter basket (roof inlet)
GT40
37,487
8,239
4.68m
2.18m
– set of anodes for corrosion protection
GT50
48,963
10,761
5.35m
2.18m
– superseal for dust and vermin protection
GT80
76,504
16,814
6.69m
2.18m
– 5 layer Aqualiner (food safe)
GT90
92,570
20,345
7.35m
2.18m
– removable ladder
GT110
110,116
24,212
8.02m
2.18m
– 20 year conditional pro-rata warranty for 2.18m high tanks
GT130
129,292
28,416
8.69m
2.18m
– 10 year conditional pro-rata warranty for 3.23m high tanks
GT150
149,948
32,956
9.36m
2.18m
– delivery and installation on your prepared sand pad
GT170
172,529
37,832
10.03m
2.18m
GT200
195,851
43,044
10.70m
2.18m
  Additional accessories for purchase:
GT220
221,097
48,593
11.36m
2.18m
 – 80mm, 100mm, 150mm outlets and valves
GT250
247,478
54,478
12.03m
2.18m
 – extra baskets
GT290
290,632
64,585
10.70m
3.23m
 – concrete kit (hoop, geotextile, hold downs)
GT330
328,096
72,910
11.36m
3.23m
GT370
367,831
81,740
12.03m
3.23m
 More information at Pioneer brochure
Aggregate, water and plumbing connections not included.
Additional accessories available upon request.
Available in Zincalume or Colorbond (prices vary)
*Gross Capacity. Allowance must be made for air gap and pipe work positioning to establish usable tank volume
Start saving $$$ on your water bills today.