How to Prepare your site for your Pioneer Water Tank
It is important to prepare your site before we come and install your Pioneer Water Tank. Before any water tank is installed, a stable sand pad foundation must be prepared. This will ensure your water investment is protected and will ensure we can install safely.
There are some important things to consider when selecting your tank site and preparing the pad: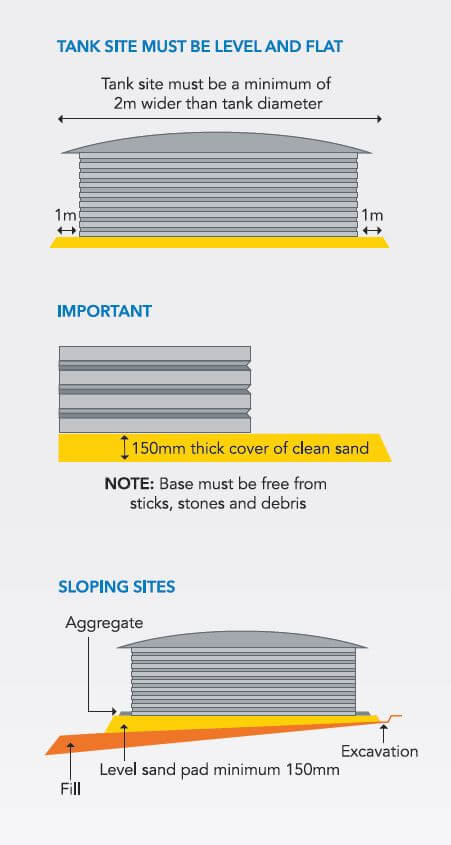 The sand pad must be level, stable and free of debris prior to construction.
The sand pad must be at least two metres larger than the diameter of
your tank.
For sloping tank sites, ensure adequate drainage to divert run off away from the tank wall.
Aggregate must be placed around the circumference of your tank to
stop erosion and comply with warranty conditions*.
A retaining wall may be required to maintain
pad integrity**.
Your tank should not be left empty for an extended period of time.
A minimum load of water (10% of tank capacity) should be placed in
your tank at the completion of construction.
** 1,000 litres of stored water weighs 1,000kgs
Geotextile: Although a properly prepared sand pad will minimise the risk of contaminants or debris compromising your water supply, Pioneer Water Tanks also recommends installing a geotextile membrane for added protection.
Approvals: Before you start preparing your site for installation of your water tank, Pioneer Water Tanks also recommends you contact your local council to see if there are any regulations or restrictions in place.
Your Pioneer Water tank preparation Guide
Select your tank size to determine size, material and water required.
Water Tank Model
Diameter
Height
Sand Pad Size


Sand Required
Cubic Meters
Aggregate Required
Cubic Meters
Water required for first fill
Litres
GT10
2.67m
2.18m
4.67m x 150mm
3.0
0.4
600
GT20

3.34m
2.18m
5.34m x 150mm
4.0

0.5
950
GT30
4.01m
2.18m
6.01m x 150mm
5.0
0.6
1,300
GT40
4.68m
2.18m
6.68m x 150mm
6.0
0.7
1,750
GT50
5.35m
2.18m
7.35m x 150mm
7.0
0.8
2,300
GT60
6.02m
2.18m
8.02m x 150mm
8.0
0.9
2,900
GT80
6.69m
2.18m
8.69m 150mm
9.0
1.1
3,550
GT90
7.35m
2.18m
9.35m x 150mm
10.0
1.2
4,350
GT110
8.02m
2.18m
10.02m x 150mm
12.0
1.3
5,050
GT130
8.69m
2.18m
10.69m x 150mm
14.0
1.4
6,000
GT150
9.36m
2.18m
11.36m x 200mm
16.0
1.5
7,000
GT170
10.03m
2.18m
12.03m x 200mm
17.0
1.6
7,900
GT200
10.70m
2.18m
12.70m x 200mm
19.0
1.7
9,000
GT220
11.36m
2.18m
13.36m x 200mm
21.0
1.8
10,200
GT250
12.03m
2.18m
14.03m x 200mm
23.0
1,9
11,400
GT280
12.71m
2.18m
14.71m x 200mm
26.0
2.0
12.900
GT290
10.70m
3.23m
12.70m x 200mm
19.0
1.7
9,000
GT330
11.36m
3.23m
13.36m x 200mm
21.0
1.8
10,200
GT370
12.03m
3.23m
14.03m x 200mm
23.0
1.9
11,400
GT410
12.70m
3.23m
14.71m x 200mm
26.0
2.0
13,900
GT500
14.04m
3.23m
16.04m x 200mm
27.8
21.3
14,000