Site preparation for your Pioneer Water Tank 
Getting ready for your water tank installation
Pioneer water tanks are mostly installed on a clean sand pad base, they can also be installed on concrete if required.
Taking time to prepare your sand pad will be well worth the effort 
DIY or if you prefer we can have the pad done for you!
Call Divine Water tanks for advice
Tell us about your water tank site access
Please confirm if the water tank pad is accessible with a medium ridged road truck or if a 4 x 4 truck is required.
Please consider the safety of our Crew in your preparation:
Safe Access to within 1 meter of the tank pad is required by our installation vehicle. The vehicle is used extensively during installation and is used as a safe work platform for the roof installation. Please discuss difficult access or any concerns with us up front so we can manage the installation appropriately.
Please ensure your pad is prepared in line with the guidelines and ready on the day of installation, again please let us know if you if you need advice or will not be ready as early as possible but at least a week before so we can reschedule our crew to other work.
The area around the pad should also be level, clear and safe (free from obstacles, open trenches, piles of sand etc) for construction works to be completed. Tank installation is manual and physically challenging work and we ask that the safety of our crew be considered in your preparation.
An unsafe site or pad not being prepared may delay installation of your tank or incur additional costs if our team need to make safe or remobilise.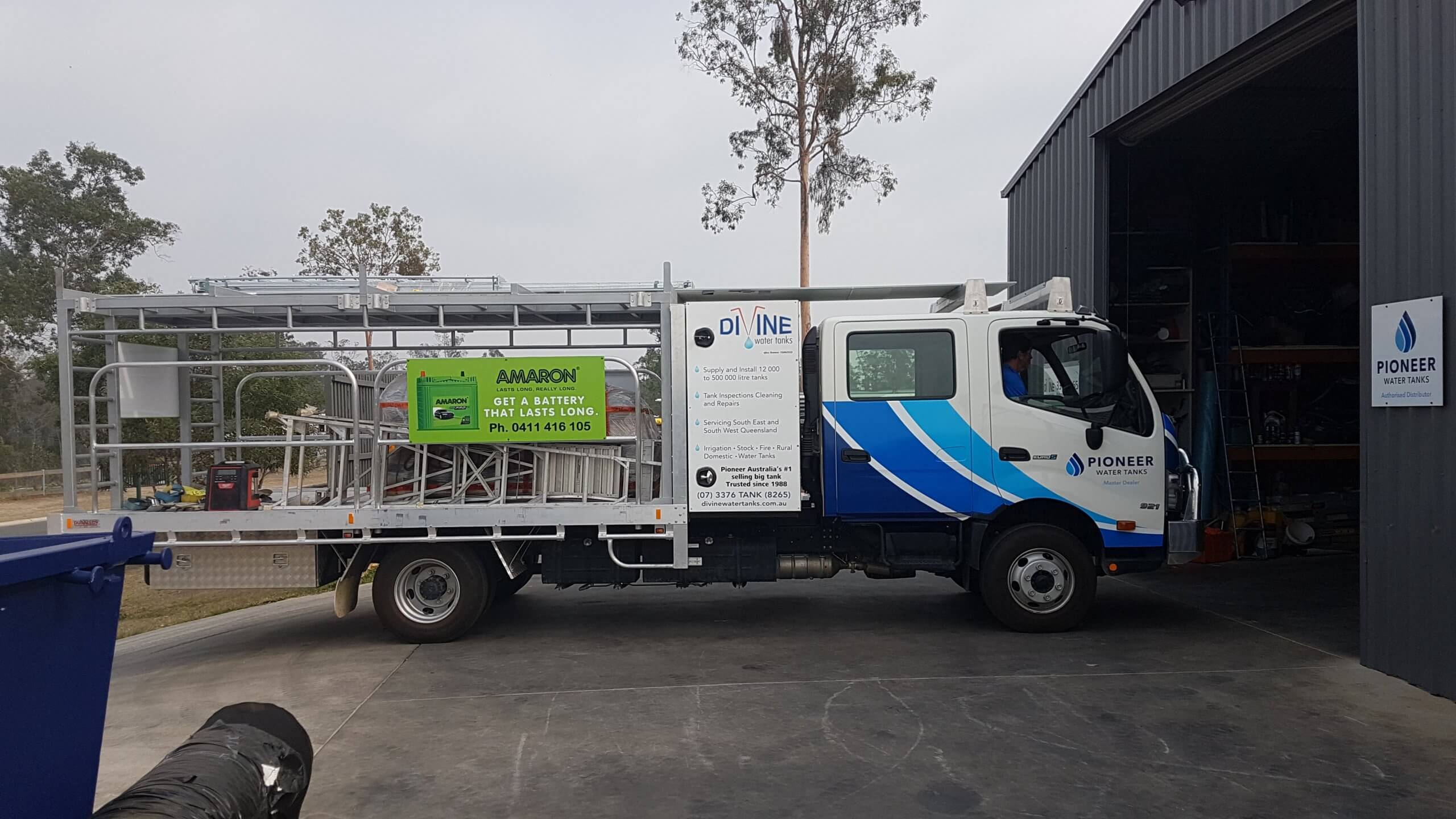 Hino Medium Ridged Truck
The Hino is suited to most water tank sites where there is relatively even a road that would be accessible in a standard road vehicle.
Dimensions: W2460mm H2800mm L8350mm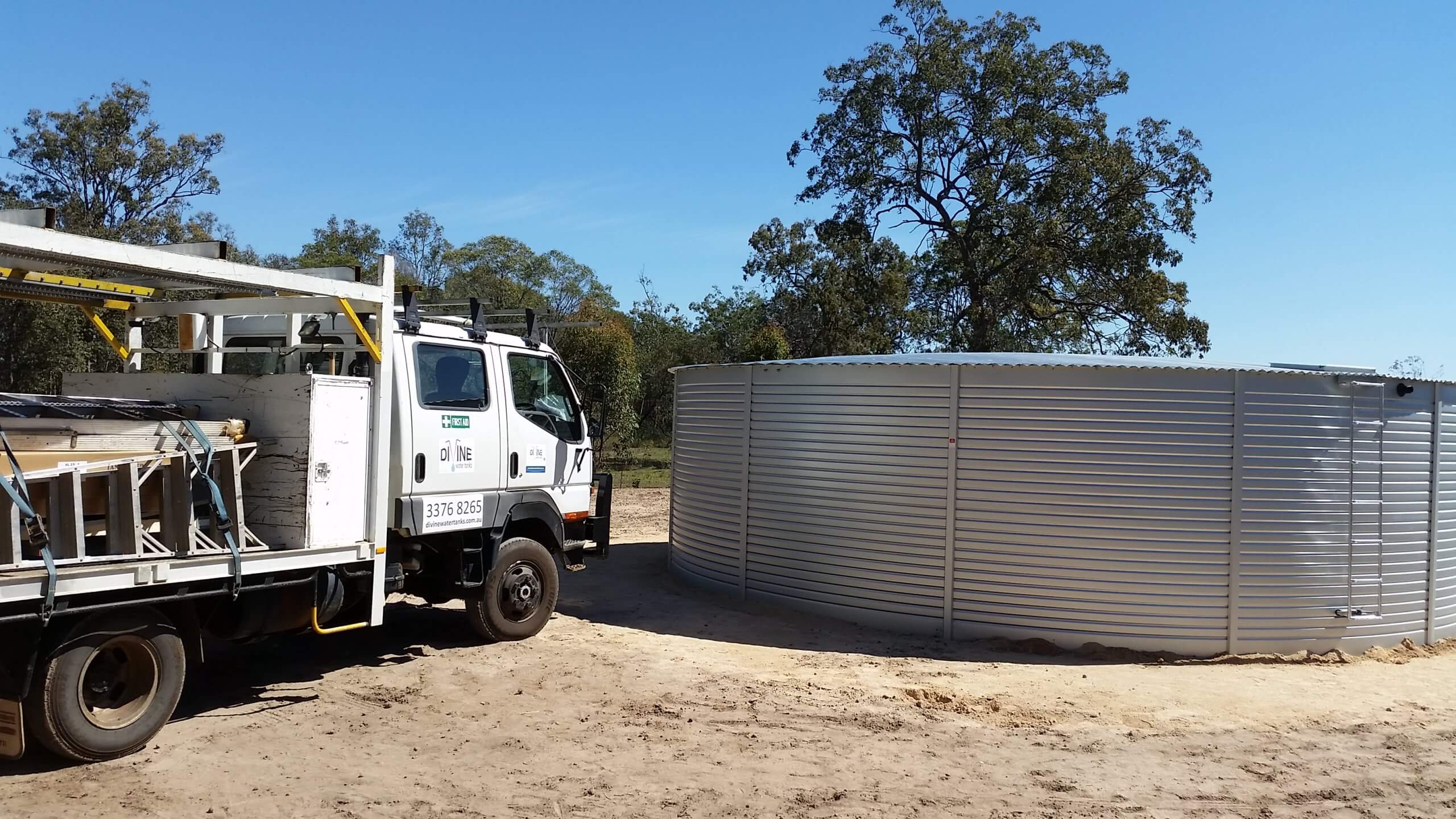 Mitsubishi Canter 4 x 4
The Mitsu is suited to water tank sites that have difficult access along a dirt track or mountainous area where a 4 x 4 vehicle to access the site.
Dimensions: W2460mm H3000mm L7000mm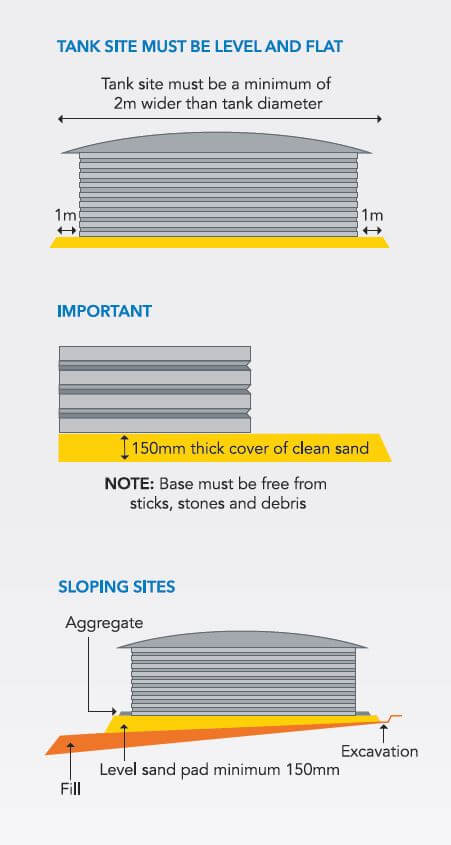 1.  The sand pad must be level, stable and free of debris prior to construction.  Inert sand is advised.
2.  For an effective water tank installation, the sand pad must be at least two metres larger than the diameter of your tank.
3.  For sloping tank sites, ensure adequate drainage to divert run off away from the tank wall.
4.  Aggregate must be placed around the circumference of your tank to stop erosion and comply with warranty conditions*.
5.  A retaining wall may be required to maintain pad integrity**.
6.  Your tank should not ever be left empty.   As per PT11-04 MS07 D01 Rural Tank Certificate – a minimum of 300mm of water should be stored in your water tank at all times. 
** 1,000 litres of stored water weighs 1,000kgs (1 tonne).
Divine Offer a sand pad preparation service in South East Qld so do it yourself or ask us for a quote to do the preparation for you.