Divine Water Tanks Service Areas
We install Pioneer Water tanks from the Gold Coast, Brisbane, Sunshine Coast, Toowoomba, Warwick, Dalby, Roma and beyond.
Divine Water Tanks are your local and exclusive  Pioneer Water Tank dealer in South East and South West Queensland.
We install Pioneer water tanks right where you need them. Brisbane and surrounds
Pioneer Water Tank installations from the Sunshine Coast Noosa to the Gold Coast  and Norther NSW Tweed Heads. 
Toowomba and surrounds
Divine Water tanks service the Lockyer Valley, Toowoomba, Warwick, Stanthorpe, Dalby and Miles. Looking for a secure water solution call today. 
Roma and surrounds
Looking for big Water tanks in Wandoan, Taroom, Injune Roma or out west to Mitchel, Charleville or Taroom. Divine install Pioneer water tanks right were you need them
Divine Water tanks have 2 installation trucks one for normal terrain and a 4 x 4. This allows us to get to hard to reach places. If you have a difficult site please discuss this with us so we can send the most appropriate vehicle for your install. Pioneer tanks are efficient to transport allowing us to carry 2 x GT250 at a time. This means we can install 500,000 liters of water holding capacity in under 2 days. 
Our installation teams travel extensively throughout Queensland having traveled over 2000km before to get to some thirsty cattle. 
Our water tank team services customers in all areas ranging from the Gold Coast north to the Sunshine Coast and west to Toowoomba, Warwick, Dalby, Stanthorpe as well as all areas west of Taroom, Miles and Goondiwindi out to Tambo, Roma, Charleville, Cunnamulla and Barringun.
Divine Water Tanks install Rural water tanks as well and Commercial Water Tanks, Fire Hydrant Tanks and light industrial water tanks.
If you need water storage, we'll get a tank to you.
Arrange your installation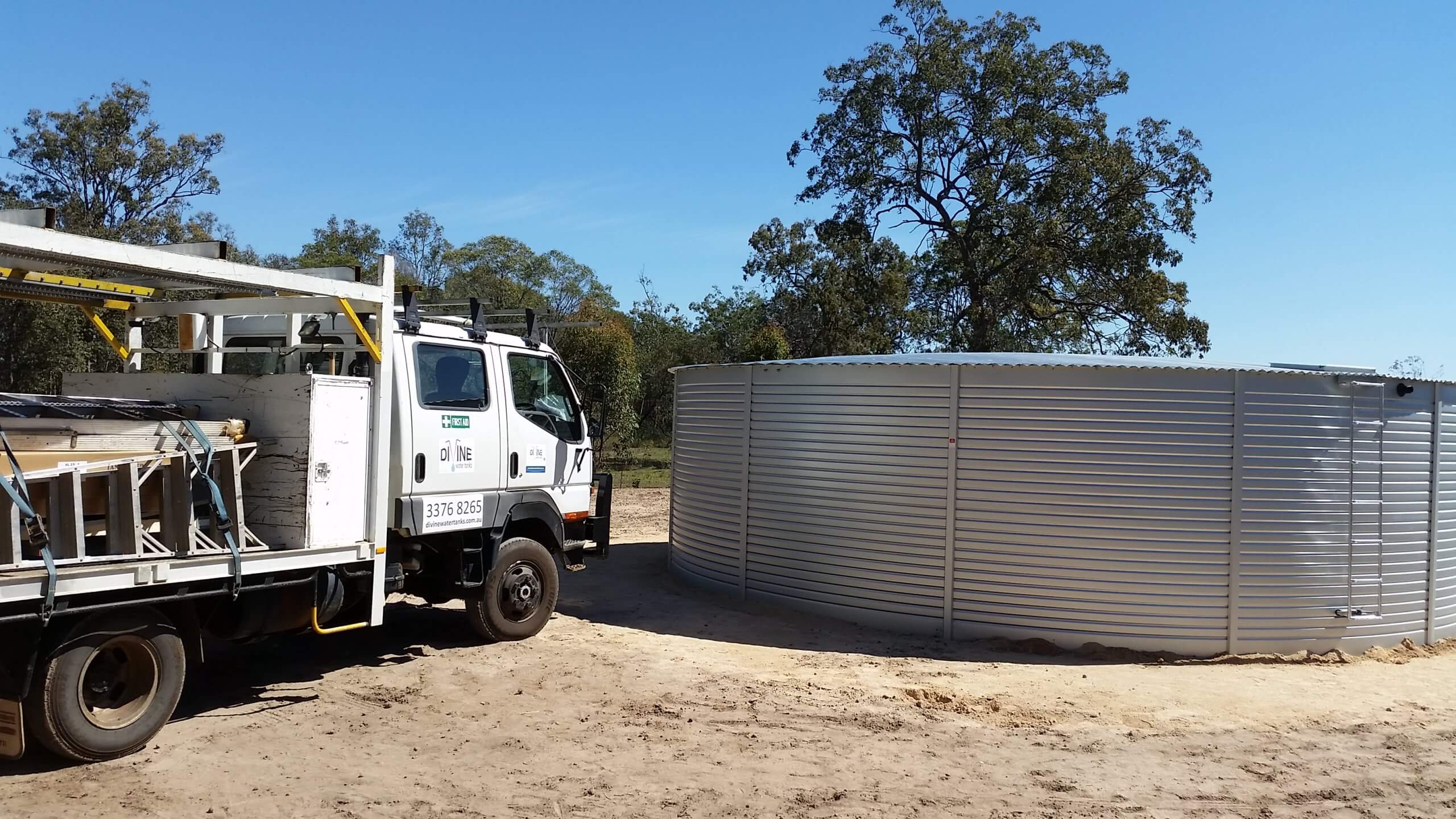 If you have a difficult to reach site please let us know – our Mitsubishi 4×4 truck can get to most places a 4×4 Ute can get to. The Truck is 7m long is 3m high with a width 2.5m .
We use our trucks extensively through our installation and it is important that our truck has access to within 1 meter of the pad so we can work safely. Please ensure the area around the pad is clean and there are no trenches cut or hazards in the work area.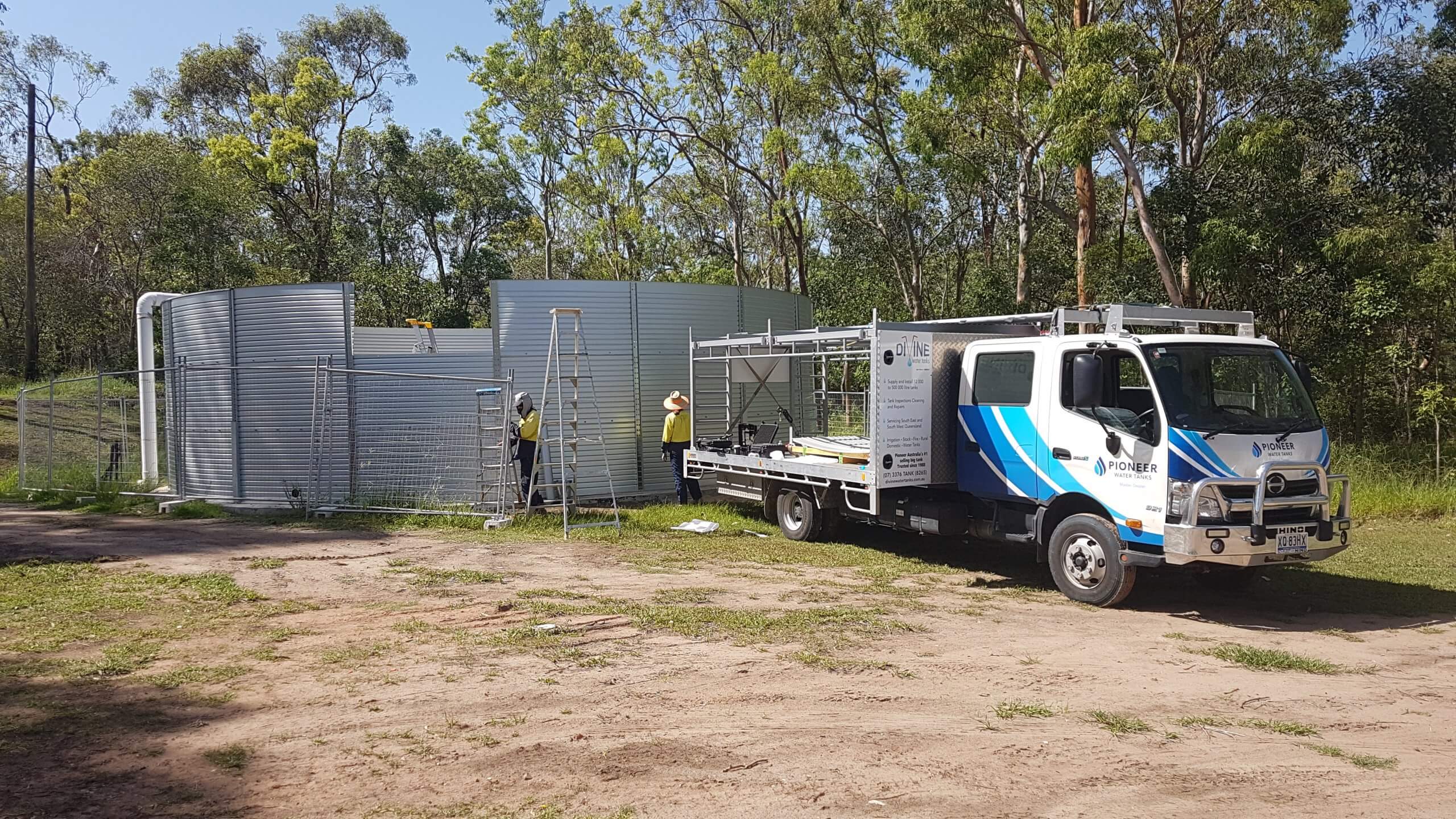 Our Hino Truck XXL long crew is 7.5 m in Length Height 3.2m with a width of 2.5m. The truck has been set up with a safe work platform so we can install the roof using the truck as a work area. 
We need to be able to access within 1 meter of the pad to work safely. It is very important to tell us is we will not be able to access the tank site so that we can make arrangements.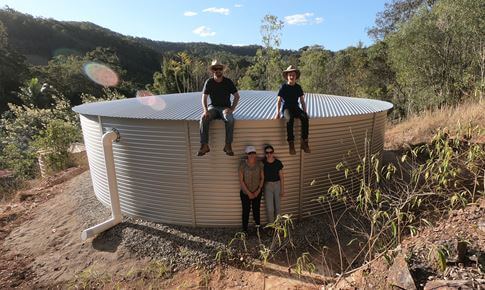 Brisbane
Water tanks for the broader Brisbane, Logan, Redlands, Ipswich and Somerset Regional councils.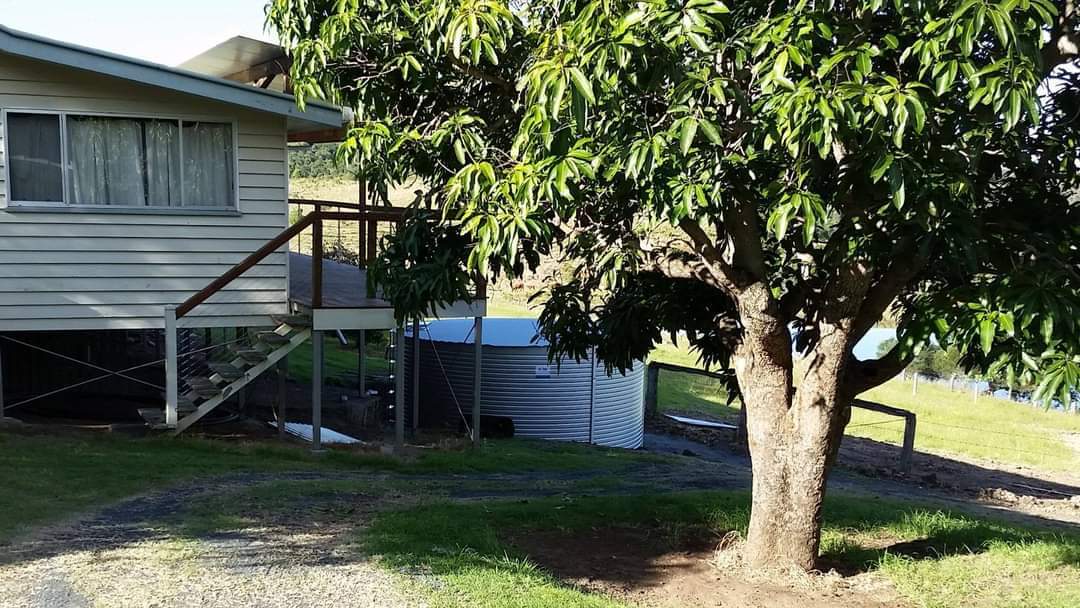 Lockyer Valley Scenic Rim Region
Water tanks for the Lockyer Valley and Scenic Rim Regional Council. Water tanks for Boona, Beaudessert, Gatton Laidley and more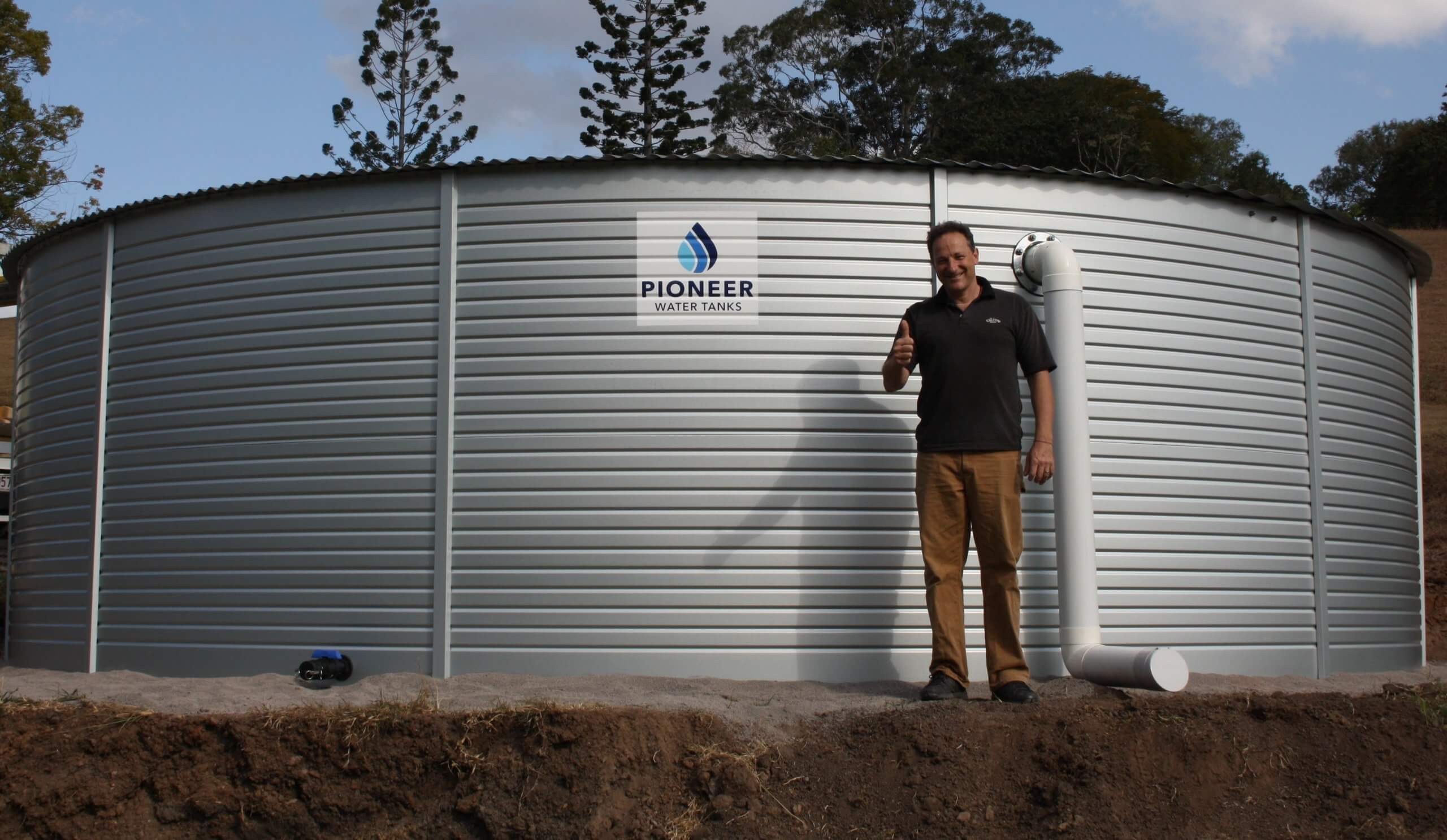 Sunshine Coast
Water tanks for the Sunshine Coast. We service as far north as Noosa, including Blackbutt, Kilcoy and Caboolture.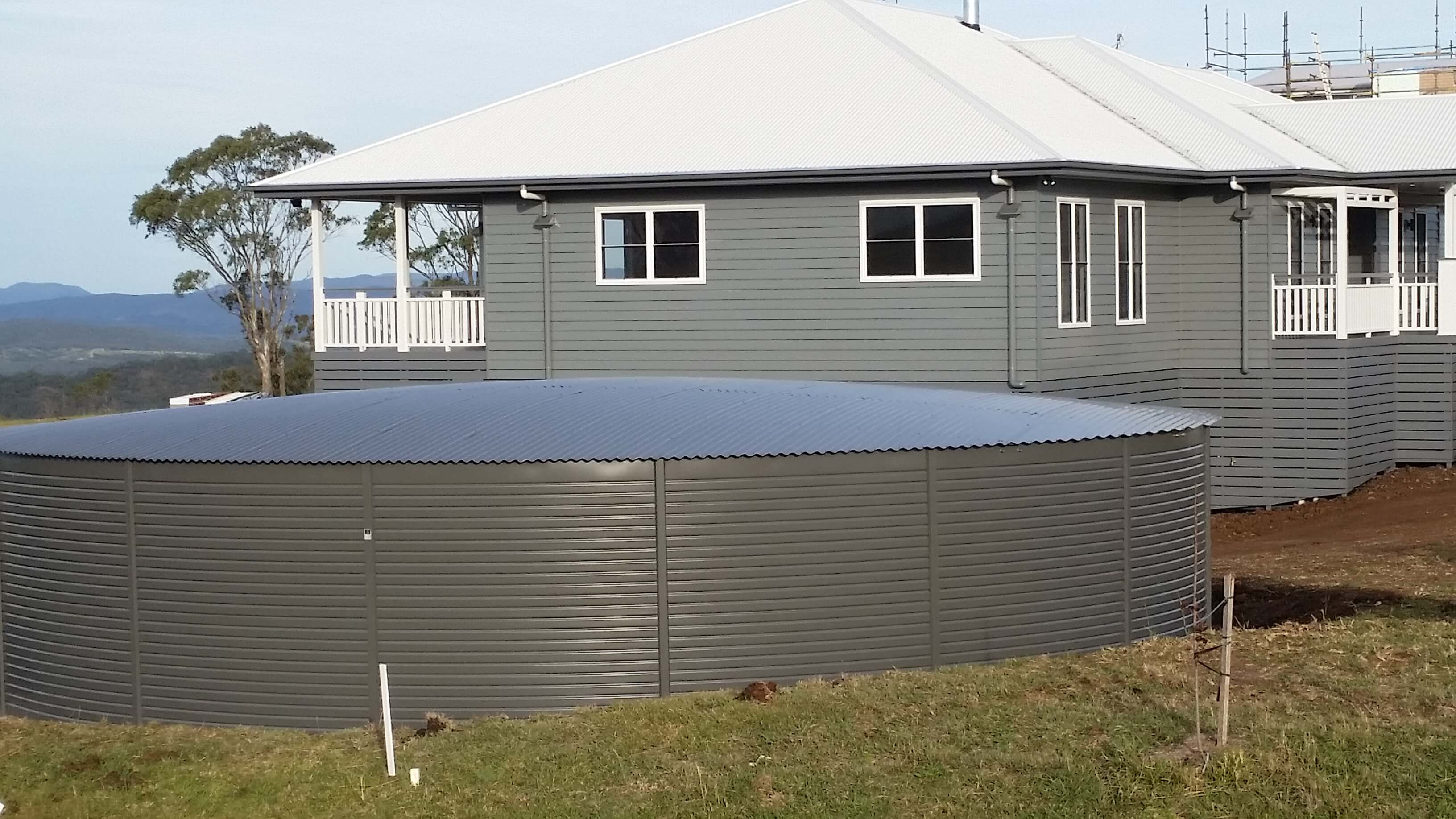 Toowoomba
Water tanks for Toowoomba, Crowns nest , Pittsworth Goombungee, Clifton, Allora, Yarraman and Blackbutt.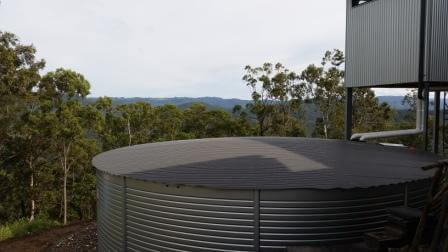 Gold Coast
Water tanks for Gold Coast. We service Tamborine, Currumbin, Springbrook, Beechmont, Canungra, Narang and surrounds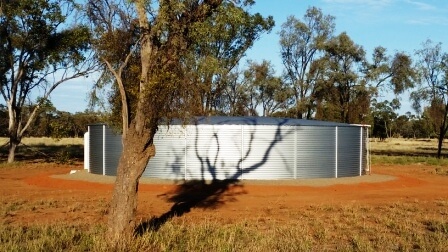 Warwick and Stanthorpe
Water tanks for Warwick, Stanthorpe, Millmerran, Dalby, Miles, Goondiwindi and St George. Also servicing west to Roma