Fire Water Storage Tanks by Pioneer
Pioneer Fire Water Storage Tanks
Pioneer Water Tanks are used extensively in the Fire service industry and can be found at schools, hospitals, Commercial buildings, Farms, Mines or anywhere a Fire protection system calls for a water storage system. The Pioneer Fire tanks can be set up to comply with all the Australia Standards for Fire Hydrant and Fire Sprinkler Systems, or specific designs drawn up by the hydraulics designer.
Call Divine Water tanks for advice
AS2304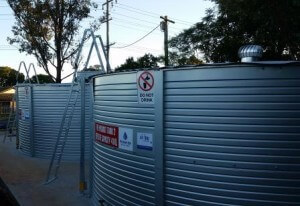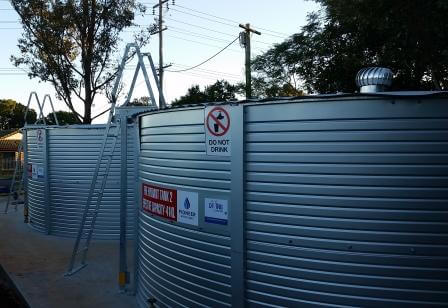 AS2304 is the proposed Australian Standard for Water storage tanks for fire protection systems. This Standard sets out the minimum requirements for the design, construction, installation, commissioning and maintenance of bolted steel water tanks for the storage of water for fire protection systems.
AS2419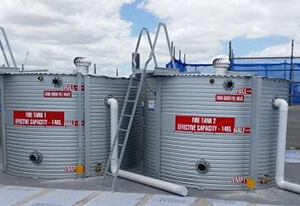 AS 2419.1 is the Fire hydrant installations – System design, installation and commissioning. This AS 2419 Standard applies to the design installation and commissioning of a fire hydrant system. The large range of Pioneers tanks can be set out to meet most construction requirements.
QLD QDC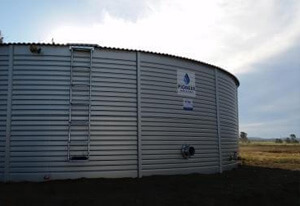 Pioneer Water Tanks can be set out to comply as part of the Fire hydrant systems and water supply requirements for the Queensland Development Code Part 3.7 for Farm buildings. The Pioneer GT170 water tank delivers the required effective capacity of 144000 required by the code.
Fire reserve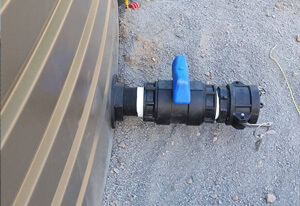 Pioneer Water tanks are perfect for supplying a household with both fresh water as well as serve as a Fire Reserve Tank. One storage tanks can be used for both purposes by adding a Cam lock fitting at the base of the tank wall and a domestic connection higher on the wall.
A reliable and affordable solution for more demanding applications.
Pioneer Water Tanks can be designed, manufactured and installed to meet AS2419 and AS2304 codes as well as the Queensland Building Code Part 3.7 – Farm buildings.
Pioneer Water Tanks have various diameter and height options and flexible nozzle locations to meet your projects requirements.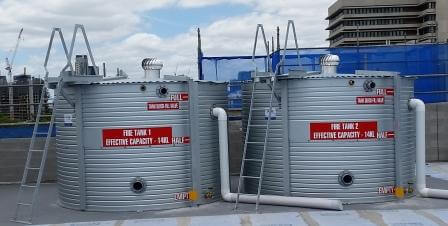 Manufactured in Australia from quality Australian steel and liners.
The Pioneer Fire Solution offer Fast, Safe, and Economical manufacture and installation methods which have proven to be effective and reliable.
Divine Water Tanks offers a professional service and draws on Pioneer Water Tanks expertise and knowledge in the area of water tank storage solutions for hydrant and sprinkler systems.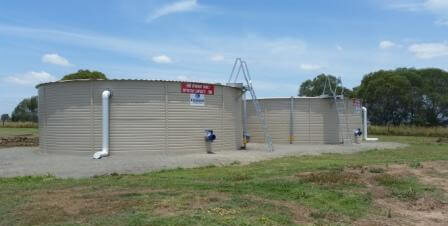 4 
---
No matter the size or scope we offer solutions from 10KL to 440KL in our standard range of tanks that are between 2.20 and 3.24 meter high.
Taller tanks with larger capacities are available via our Commercial build team.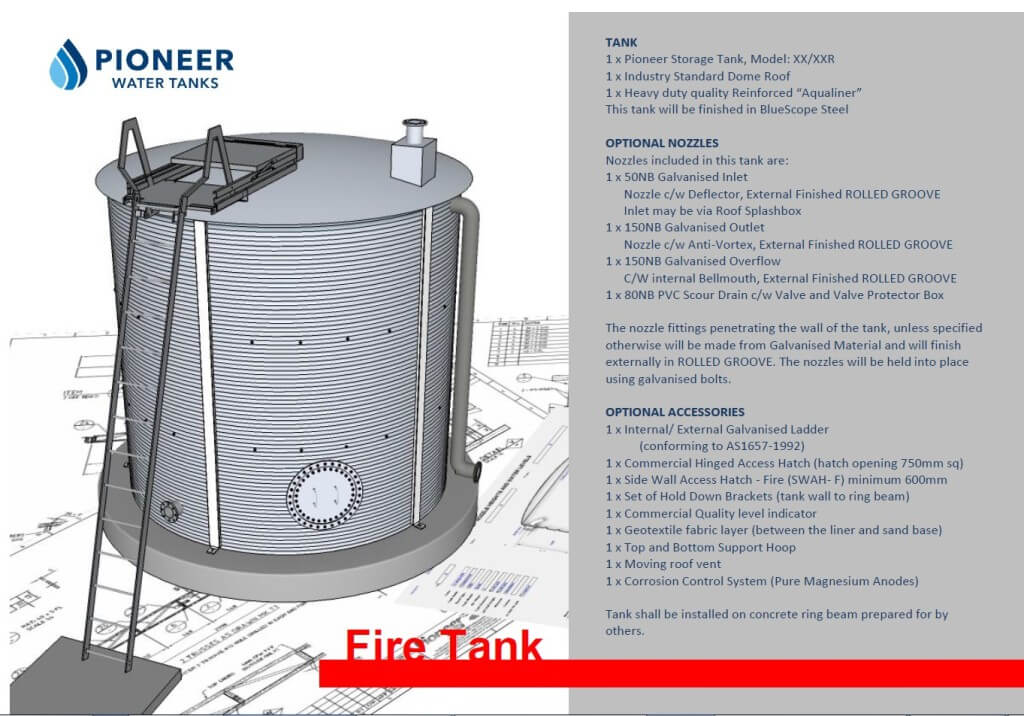 Features:
Fire Water Storage tanks from 2.18 meters up to 3.23 metres high with gross capacities ranging from 12,000 litres to 370,000 litres.
Large range of outlets/inlets and valves to suit specific requirements (up to a 150mm diameter)
Various sizes and heights to fit most available spaces.
Use of the exclusive 5 layer Aqualiner approved to Australian, American and British Standards for potable water.
Can be installed on a sand pad or a concrete ring beam (site application and Standard specific).
Fast and easy to install at any stage of a project.
Compliant with the current standard AS2419.1-2005 and the new standard AS2304
Pioneer Fire tank options
Pioneer have a number of options in the standard range incluidng both 2.20m and 3.23m heights 
Pioneer Water Tanks ensure all products and components meet the highest quality requirements to meet Australian Standards.
The relevant clauses of the following Standards are used by Pioneer Water Tanks when designing water storage tanks for the Australian market.
• AS2304 Water Storage Tanks for Fire Protection
• AS4100 Steel Structures
• AS1170.1 Live and Dead Loads
• AS1170.2 Earthquake Loads
• AS1657 Ladders Platforms
• AS2419.1 Fire Hydrant (Tanks)
• AS2118 Fire Sprinkler Systems
• AS2832.2 Cathodic Protection
• AS2239 Galvanic (sacrificial) Anodes for Cathodic Protection
• AS/NZS4020 Testing of Products for use in Contact with Drinking Water
To meet your fire protection requirements today.
Fire Protection
If you are looking for a fire reserve on you rural or domestic tank we can create a fire reserve by adding one fire fitting, now that is an ideal solution as back up fire protection.
Pioneer Water Tanks Fire tested
Pioneer (lined Steel ) Water Tanks are also the ideal solution for fire protection, a tank was subjected to a 30 minutes flame immersion test by the Australian Governments Bushfire Cooperative Research Centre in 2006. The Pioneer tank maintained its structural integrity and was able to retain water during and after the firefront.