Light Industrial Pioneer Water Tanks
From 12,000 litres to 368,000 litres from one tank add more tanks to increase capacity.
Divine Water tanks have a range of Pioneer Water tanks to meet your Light Industrial requirements.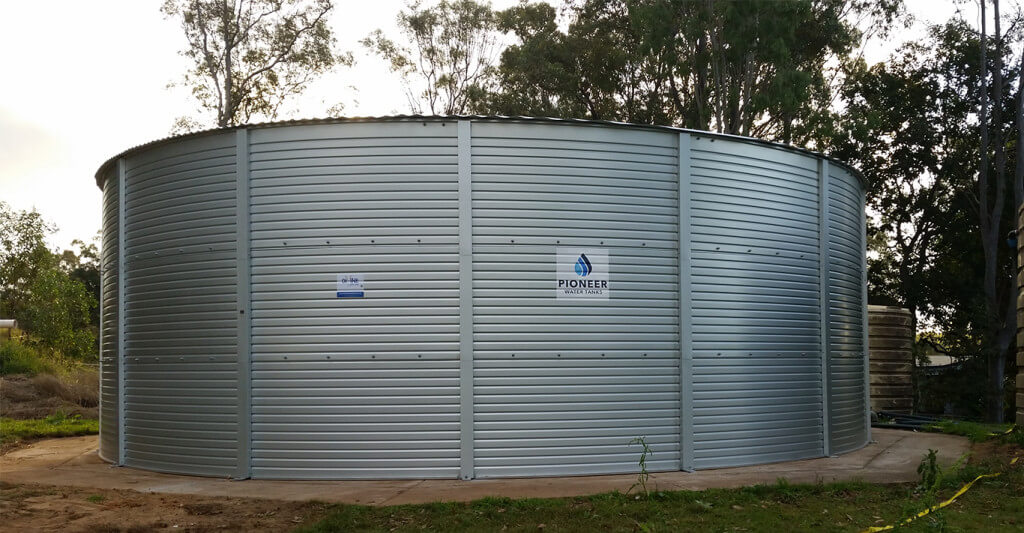 The Pioneer water tank light industrial range features a Commercial water tank body, commercial Aqualiner and Industry Standard roof and comes in either 2 ring 2.18m height or 3 ring 3.23m heights where space is a restriction
 
Australian design and manufacture.
Pioneer Water Tanks manufactures tanks from 6,000 up to 2.66 million litres.
The Pioneer water tanks have the necessary structural engineering to suit either rural/domestic or commercial uses.
Depending on the clients' needs our Pioneer water tanks can be designed to suit earthquake zones, cyclonic regions,heavy industrial or highly specialised environments.
Pioneer water tank combines the strength of the exclusive 8-80 V-lock profile, with an aesthetic appeal, incorporating a protective capped bolt system and innovative, fully enclosed vertical bolt cover.
Available sizes for Pioneer Light Industrial tanks
Model
Diameter
2.18m High Gross Capacity*
3.23m High Gross Capacity*
Standard Inclusions
XL01
2.67m
12KL
18KL
– 50mm outlet and valve
XL04
3.34m
19KL
28KL
– 150mm overflow, down pipe and flap valve
XL05
4.01m
28KL
41KL
– leaf litter basket (can be swapped to 50mm wall inlet)
XL08
4.68m
38KL
56KL
– set of anodes for corrosion protection
XL10
5.35m
49KL
73KL
– lockable access hatch
XL13
6.02m
62KL
92KL
– superseal for dust and vermin protection
XL15
6.69m
77KL
114KL
– 5 layer Aqualiner (food safe)
XL20
7.35m
93KL
137KL
– 2m or 3m removable ladder
XL23
8.02m
110KL
163KL
– Geotextile
XL25
8.69m
130KL
192KL
– 10 year conditional warranty
XL30
9.36m
150KL
223KL
 – delivery and installation on your prepared sand or concrete pad
XL35
10.03m
173KL
255KL
XL40
10.70m
196KL
291KL
Inlets and outlets up to 150mm available.
XL45
11.36m
222KL
328KL
Can be designed for cylonic areas.
XL50
12.03m
248KL
368KL
 Fixed ladder can be provided to comply with AS2419
1KL = 1000 litres of water
Aggregate, water and plumbing connections not included.
Additional accessories available upon request.
Available in Zincalume or Colorbond (prices vary)
*Gross Capacity. Allowance must be made for air gap and pipe work positioning to establish usable tank volume