Poly or Steel for your Bushfire protection
When facing the trauma of an oncoming fire you want to be sure you are relying on Pioneer Steel Water Tanks and not poly tanks to protect your family, animals, and property. We have recently seen the worst fires to strike Australia and many families and Rural fire volunteers were reliant on tank water to protect properties.
Steel tanks will hold up and give you reliable water supply during critical fire periods.
This is a powerful image illustrates the danger of relying on poly tanks to store water for bushfire protection. This image was taken by Ben Wise (Pioneer Water Tanks South Australia during his customer visits and tank inspections following the recent devastating bushfires on Kangaroo Island, South Australia.
We have seen Poly tanks fail before the fire reaches the front line when the water is needed most, the molten polyethylene also then adds fuel to the fire. What we are again seeing on the ground is supported by research carried out by the Bushfire CRC after the Black Saturday fires in Victoria.
Property owners will once again need to review their options in preparing for bushfires and go through a process of selecting the right materials and support system for potential future fire events.
Although Poly may seem like a quick and cheaper option we know they are not suited for fire protection. If you are considering a larger steel tank call Australias number 1 big tank company, you will be surprised at how cost-effective they are relative to 3 or 4 poly tanks better still the larger they get the more cost-effective they are.
At Pioneer Water Tanks we are able to install a larger dual-purpose water tank that can be used for stock or domestic use with a fire reserve by adding a mid-level domestic use outlet and a rural fire coupling you can assure you have water when you need it most.
Poly Tanks fail before the fire reaching them and the molten poly is likely to add fuel to the fire.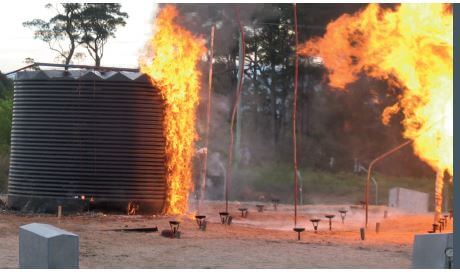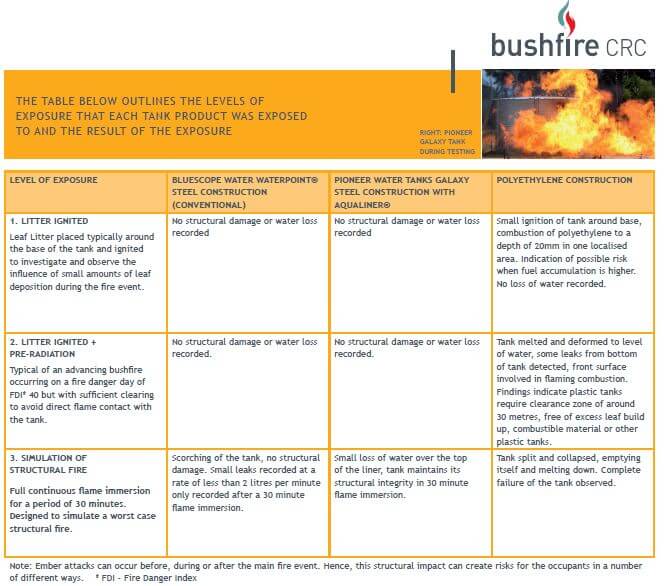 Although you are likely to see damage on your steel tanks they will hold up during the critical fire period and enable the water to be used to fight fires. If your Pioneer Water Tank has been a frontline firefighter and has suffered damage please call your local Pioneer Water Tank distributor or Pioneer Water Tanks for advice. Living in South East and South West Queensland please call Divine Water Tanks 07 33768265 or email sandy@divinewatertanks.com.au