Pioneer Fire Water Tanks
Pioneer Water Tanks are ideally suited for Fire Hydrant Tanks, Fire Sprinkler Tanks and for Fire Water Tanks.  Pioneer water tanks can be set out to comply with the As2419, AS2304 code specifications or alternatively to comply with the Queensland development Code for farming structures.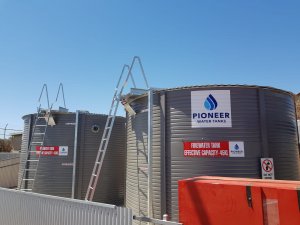 Over the past 4 years Divine water tanks have installed Fire tanks on State hospital projects, school project, Aged care Facilities, and various commercial projects in and around Brisbane, Gold Coast, Sunshine coast, Toowoomba, Dalby as well as in North and Central Queensland.
With numerous tank sizes available we can cover most site requirements, we do specialise in tanks ranging from an 8.9kl effective capacity to 388kl effective with maximum height of 3.23m. These tanks can be set out to meet specific site requirements on nozzel size and location and can be installed on both sand or a concrete ring beam depending on what standard  the project needs to comply with and what has been specified by the designers.  The standard Pioneer tank pack range gives us a wide range of options including size and colour so that we can offer cost effective solution.
We have developed close working relationships with key Building and Civil contractors, commercial plumbing firms and Hydraulic specialist around Queensland through our knowledge of tanks, friendly consultative manner when tendering and finalising pricing,  installing to promise and on time, ensuring we work safely, that we leave a clean site and that we have no non conformance when the tanks are signed off by the client.   Backed with Pioneer Water Tanks 30 year manufacturing and Engineering team our clients are assured of the highest quality, designed to meet all relevant standards for Steel liner Tanks, ladders and nozzels that is compliant.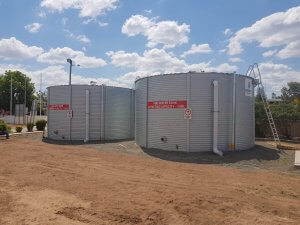 Divine water tanks have also built a reputation for installing cost effective tank options to meet the Qld Dev code 144kl for primary producers building new animal or storage sheds. Installing Qld Dev code tanks on Poultry farms, pig farms and storage sheds around south east and south west Queensland.
Divine Water Tanks are one of the few Water Tank companies in Queensland that fully comply with sales and installation requirements as we hold a low rise building licence as required by QBCC licence, in addition our team have Confined space and Working at height tickets, White cards including BAS induction cards, and are fully covered on insurances.
When you call Divine for your fire tank project you know you will have direct contact with the people who will be managing your fire water tank installation project from end to end, as the Exclusive Distributor for Pioneer in South East and South West Queensland Divine Water Tanks are your local professional contact for the number #selling large tank in Australia.
Follow link to find our more about https://www.divinewatertanks.com.au/usage/fire-water-storage-tanks/
No matter the size or scope we offer solutions from 12KL to 388KL in our standard range of tanks that are between 2.18 and 3.23 meter high.
Taller tanks with larger capacities are available via our Commercial build team.
Contact Sandy at Divine Water Tanks 07 3376 8265 or sandy@divinewatertanks.com.au