Buying the Right Water Tank for your Block
Buying a new Block of land with no town water means having to make the difficult decision on how to secure your water supply.  Besides all the decision on the house design, sheds, driveways and possibly a swimming pool you will also need to determine what the best water tank solution might be. There are many tank option on the market, including Concrete, Poly, Aqua plate steel or Large steel liner tanks. The focus of this article will be on the Large Steel liner Tanks and in particular that selecting a Pioneer Water Tank may be the best long term water investment that you make.
The biggest mistake people make is underestimating the amount of water they will need, so small, seemingly less expensive, tanks are installed and over time more and more small tanks are added costing much more in the long run. Looking both unsightly and taking up surface space that could be better utilised. The second factor to consider is the rain events we are seeing where we are having large rain events on a less frequent basis meaning you need to be ready to maximise your rain water harvesting with decent storage space so you don't run out in those dry months.
When buying a new block you have the advantage of planning the right solution for your own needs.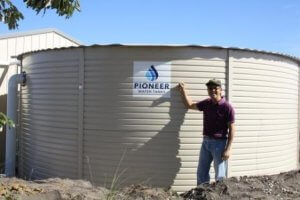 Here are a few things you may need to consider
Is this your only water source?
How big is the family / or how big will it become?
For what other uses do you need to store water?
How much do you need?
What is the catchment area (Roof area in m2)
What is the average rainfall in your area?
How much space do you have for your tanks?
Do we need a fire reserve?
Size makes a difference
Pioneer make a range of tanks from 12,000 litres to 500,000 litres for domestic, rural, commercial and Fire Hydrant uses. On an acreage block with no other water source we typically see customers selecting between 80,000 to 170,00 litre tanks with the 110,000 currently being the most popular size. This size tank is usually sufficient for a medium family and will allow you to keep a fire reserve on the same tank if you are required to have one.  Our general advise is to size one up from what you were thinking, the price on the Pioneer Tanks does not increase significantly between sizes and you may be surprised how little the extra 10000 or 20000 litres may cost. One of the major advantages of the big steel tanks is that they come in a variety of sizes while the Poly, Concrete and Aquaplate tanks have a limited capacity (typically around 30,000 litres) so you require 3 or 4 of these to run a home with no town supply. As we indicated buying multiple tanks is more often more expensive and takes up more space that one larger tank.
Large Steel tanks are not expensive
There is a misconception that a big water tank is much more expensive than buying smaller tanks, this is normally not correct.  The price range on a GT110 in Queensland is between $9,400 and $11,000 depending on colour selection and proximity to your local Pioneer dealer. This price includes installation and a standard pack of inclusions on your pre- prepared sand pad. You would be finding prices of around $3000 and $3500 for a standard Poly or Aquaplate tank in the 27,000 litre to 30,000 capacity range. To match the larger tank capacity you would need 4 of the smaller tanks which will probably cost more than the larger tank. Read more about this via this link Poly Tank or Steel.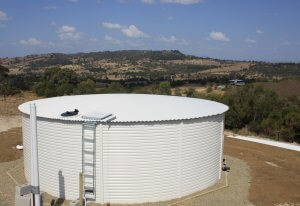 Besides the initial cost 30 years of manufacturing and Australian market experience has demonstrated that the Pioneer Steel Tanks last much longer than other tanks in normal conditions. Over time poly becomes weakened by UV exposure and splits this does not happen with a Pioneer steel tanks. Pioneer use only Australian made Bluescope Colorbond or the latest Next Generation Zincalume that have  30 to 50 year rated life spans. Galvanised versus Zincalume. 
Modern and stylish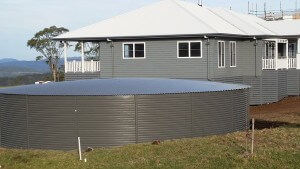 The Pioneer V-lock 8-80 profile is modern and stylish and will suit your modern designer home. There are an extensive range of colours to select from that will suit your designs. Pioneer use only genuine Australian BlueScope Steel and Colorbond ensuring your tanks have the finest grade of steel. Pioneer do not powder coat or post paint colours again this ensures only the finest quality steel is used on the structure. The Pioneer profile is not only good looking this design is specifically designed for water storage, the profile ensures a ridged and strong body that will not tear or rip like corrugated steel. The flatter profile is ideal for liners and ensures minimal stress on the liner when the tank is full and safeguards the liner from deterioration over time.
Freshest Water
The latest Pioneer Aqualiner Fresh is the most advanced liner technology on the Australian market. Pioneer have the exclusive rights to the use of the Swiss Sanitized technology and have launched the only antimicrobial liner available. The liner actively works against the formation of algea and bacterial in the water meaning your precious water stays fresher for longer. For the Freshest Water choose Pioneers Exclusive AQUALINER Fresh® 
We often get asked how to keep tank water clean and the best solution is to ensure clean water goes into the tank by installing a first flushing system and cleaning out the debris in the baskets, if this is taken care of the water inside the Pioneer tank will remain clean and fresh. The Pioneer Water Tank is installed with dust and vermin proofing to protect the tank against mozzies or other unwanted critters  making this there home.
Fire Reserve
If you are required to hold a fire reserve your Pioneer Water Tank can be set up to do the job. By installing a low level Fire Reserve Fitting (Camlock or Stortz) and then fitting a domestic level fitting on the wall you ensure you always have the required fire reserve available if there is a bush fire approaching. This saves money as there is no need to have a second water tank for your Fire Reserve as this can all be accommodated in the one larger Pioneer tank.
Again in some cases Poly tanks are used as Fire reserve tanks, extensive testing has been done by the Bushfire CRC which found poly tanks to be the least reliable source in the event of a fire.  Fire water reserve water tank make the right choice
Some Key Advantages of a Pioneer Steel Tank over Poly
Steel is stronger than plastic
Steel lasts longer and does not deteriorate in the sun
Steel Liner Tanks come in many sizes to suit your properties needs
Steel Tanks can be made larger than Poly
Steel will withstand direct fire immersion and will keep on fighting when you need it
Cost effective if you need a large secure water supply
Advantages of a Pioneer Steel Tank over Concrete
Steel is more economical than Concrete
Pioneer Steel Tanks offer a far wider range of sizes from 12kl to 500kl than concrete tanks
Steel tanks are typically installed in less than one day
Steel tank is above ground and does not require excavation
Steel tanks can be place on a level sand pad
Steel is more accommodating of ground movement and will not crack
The low pH rainwater entering the concrete tank undergoes the chemistry changes of being hardened up by lime leach from the concrete walls whilst in the tank and brings the pH to neutral or even possibly slightly alkaline.
As the AQUALINER Fresh® liner inside a Pioneer tank is inert (does not cause chemistry changes in the water supply), the water entering the tank will remain at the same pH level. The water is "softer" than that of water coming from a concrete tank that has been undergone a chemical change.
We hope you found our article of interest and that it assists you in your Tank selection.
If you have any question or need advise you are always welcome to contact us and we can talk over you specific needs. Water Tanks Contact Us