Categories: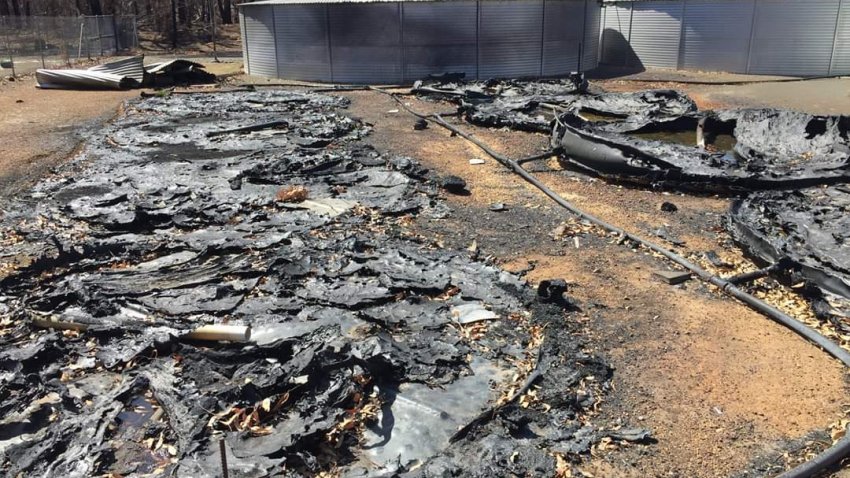 Poly or Steel for your Bushfire protection
When facing the trauma of an oncoming fire you want to be sure you are relying on Pioneer Steel Water Tanks and not poly tanks to protect your family, animals, and property. We have recently seen the worst fires to strike Australia and many families and Rural fire volunteers were reliant on tank water to protect properties.
Steel tanks will hold up and give you reliable water supply during critical fire periods.
This is a powerful image illustrates the danger of relying on poly tanks to store water for bushfire protection. This image was taken by Ben Wise (Pioneer Water Tanks South Australia during his customer visits and tank inspections following the recent devastating bushfires on Kangaroo Island, South Australia.
We have seen Poly tanks fail before the fire reaches the front line when the water is needed most, the molten polyethylene also then adds fuel to the fire. What we are again seeing on the ground is supported by research carried out by the Bushfire CRC after the Black Saturday fires in Victoria.
Property owners will once again need to review their options in preparing for bushfires and go through a process of selecting the right materials and support system for potential future fire events.
Although Poly may seem like a quick and cheaper option we know they are not suited for fire protection. If you are considering a larger steel tank call Australias number 1 big tank company, you will be surprised at how cost-effective they are relative to 3 or 4 poly tanks better still the larger they get the more cost-effective they are.
At Pioneer Water Tanks we are able to install a larger dual-purpose water tank that can be used for stock or domestic use with a fire reserve by adding a mid-level domestic use outlet and a rural fire coupling you can assure you have water when you need it most.
Poly Tanks fail before the fire reaching them and the molten poly is likely to add fuel to the fire.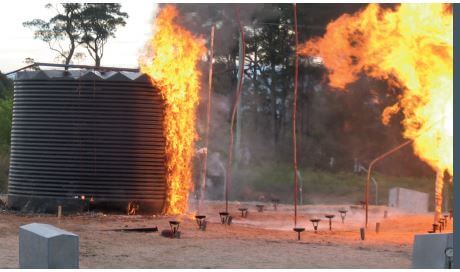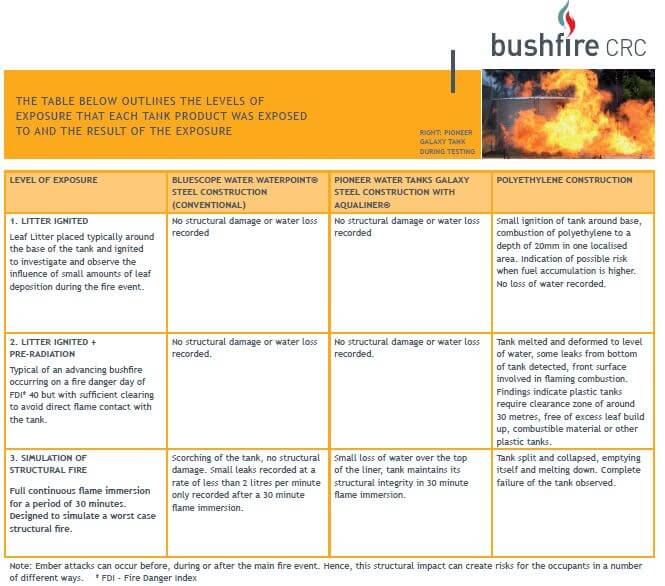 Although you are likely to see damage on your steel tanks they will hold up during the critical fire period and enable the water to be used to fight fires. If your Pioneer Water Tank has been a frontline firefighter and has suffered damage please call your local Pioneer Water Tank distributor or Pioneer Water Tanks for advice. Living in South East and South West Queensland please call Divine Water Tanks 07 33768265 or email sandy@divinewatertanks.com.au
Categories:
03/12/2018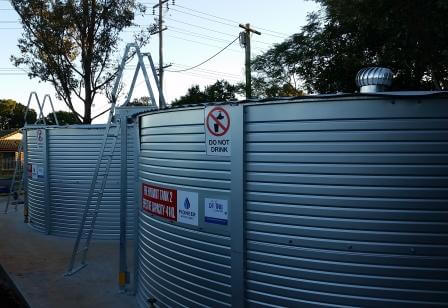 Pioneer Fire Water Tanks
Pioneer Water Tanks are ideally suited for Fire Hydrant Tanks, Fire Sprinkler Tanks and for Fire Water Tanks.  Pioneer water tanks can be set out to comply with the As2419, AS2304 code specifications or alternatively to comply with the Queensland development Code for farming structures.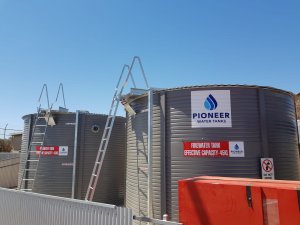 Over the past 4 years Divine water tanks have installed Fire tanks on State hospital projects, school project, Aged care Facilities, and various commercial projects in and around Brisbane, Gold Coast, Sunshine coast, Toowoomba, Dalby as well as in North and Central Queensland.
With numerous tank sizes available we can cover most site requirements, we do specialise in tanks ranging from an 8.9kl effective capacity to 388kl effective with maximum height of 3.23m. These tanks can be set out to meet specific site requirements on nozzel size and location and can be installed on both sand or a concrete ring beam depending on what standard  the project needs to comply with and what has been specified by the designers.  The standard Pioneer tank pack range gives us a wide range of options including size and colour so that we can offer cost effective solution.
We have developed close working relationships with key Building and Civil contractors, commercial plumbing firms and Hydraulic specialist around Queensland through our knowledge of tanks, friendly consultative manner when tendering and finalising pricing,  installing to promise and on time, ensuring we work safely, that we leave a clean site and that we have no non conformance when the tanks are signed off by the client.   Backed with Pioneer Water Tanks 30 year manufacturing and Engineering team our clients are assured of the highest quality, designed to meet all relevant standards for Steel liner Tanks, ladders and nozzels that is compliant.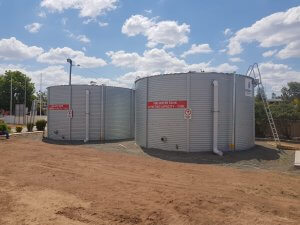 Divine water tanks have also built a reputation for installing cost effective tank options to meet the Qld Dev code 144kl for primary producers building new animal or storage sheds. Installing Qld Dev code tanks on Poultry farms, pig farms and storage sheds around south east and south west Queensland.
Divine Water Tanks are one of the few Water Tank companies in Queensland that fully comply with sales and installation requirements as we hold a low rise building licence as required by QBCC licence, in addition our team have Confined space and Working at height tickets, White cards including BAS induction cards, and are fully covered on insurances.
When you call Divine for your fire tank project you know you will have direct contact with the people who will be managing your fire water tank installation project from end to end, as the Exclusive Distributor for Pioneer in South East and South West Queensland Divine Water Tanks are your local professional contact for the number #selling large tank in Australia.
Follow link to find our more about http://www.divinewatertanks.com.au/usage/fire-water-storage-tanks/
No matter the size or scope we offer solutions from 12KL to 388KL in our standard range of tanks that are between 2.18 and 3.23 meter high.
Taller tanks with larger capacities are available via our Commercial build team.
Contact Sandy at Divine Water Tanks 07 3376 8265 or sandy@divinewatertanks.com.au
Categories:
20/08/2018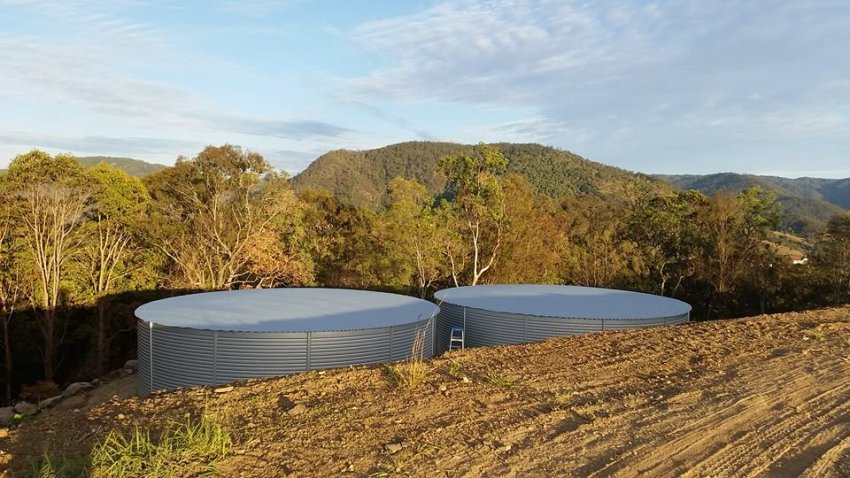 Pioneer Water Tank being installed in Brisbane
This big water tank may look like its out bush but is actually nestled away just a few kilometres outside Brisbane city.  Installed by Divine Water Tanks in Upper Brookfield our client made this fantastic time laps video of their Pioneer GT130 water tank being installed.  The tank sand pad was perfectly level and marked out so our install team made quick work of completing this water tank installation.
To install a Pioneer Steel Liner water tank you simply need to prepare a level sand pad, installation is included in your price. Sand Pad preparation is relatively simple but the key is to get your measurements and levels right 
Sand Pad preparation guide
There are a large variety of Pioneer Tanks available, the most common size selected by our clients for an acreage or rural domestic block range between 50,000 litres and 170,000 litres. The most popular acreage water tanks in Brisbane are the GT110 (11o,000 litre tanks) Our team will typically have a 110,000 litre water tank installed within 6 hours, ready to fill and use by nightfall.
Looking at what size will fit your block., follow the link to the full list of options. when selecting your tank we can sometime pull the tank pad in depending on access. So please discuss options with us. Pioneer Water Tank size options
Pioneer Water Tanks come in a variety of  colours Tank colour selection
Please contact Divine with any questions we are the professionals and here to help you find the best rain water harvest solution for your property and needs. Contact Divine Water Tanks
Call Sandy on 07 3376 8265
Pioneer Water Tanks the number 1 selling large steel water tank in Australia backed with 30 years of manufacture expertise you know you have made the right choice.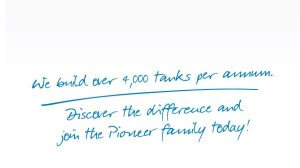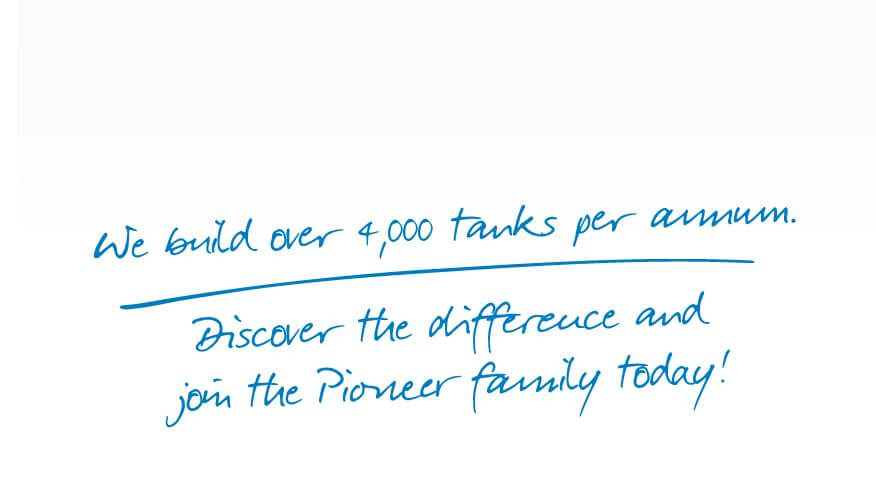 Categories:
20/04/2018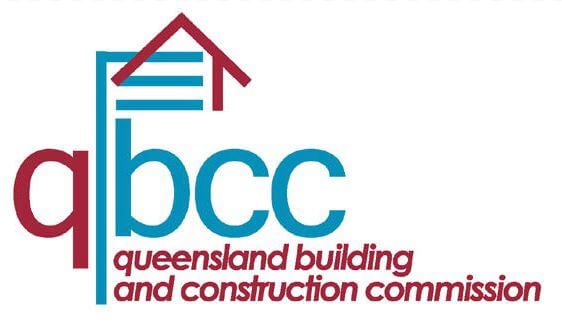 QBCC have now  determined that it is a requirement in Queensland for the company selling you and the company installing your Steel Tank or the company selling or installing a water tank liner are required to hold an appropriate licence class.
For Steel tanks with a liner assembled onsite a minimum Builder Low rise Licence or a Structural Metal Fabrication and erection licence is now a requirement.
For water tank liner installations, a minimum Builder Low rise, plumbing or Water proofing licence is required.
Before you make your final purchasing decision please ensure you have asked if the company you want to buy from has an appropriate QBCC licence and if so which licence class do they hold.
Using a QBCC licence company protects the consumer against poor workmanship, ensures the company you are dealing with are qualified to perform the work you require doing at a professional standard as well as ensuring the company is financially sound and legally compliant.
We are proud to confirm the R & S Hughes Group Trading as Divine Water Tanks hold a Builders Low Rise Licence and are therefore qualified to manage your water storage requirements. As the  Exclusive Pioneer Water Tank installer in South East and South West Queensland you can be assured what every your requirement being it rain water storage, domestic usage, water tanks for agriculture, industrial,  commercial, or Fire Hydrant and Fire Sprinkler tanks if you are looking for a large steel tank or new liner we have you covered.
R & S Hughes Group Pty Ltd QBCC Licence: 15082522               
DOES YOUR WATER TANK INSTALLER NEED A LICENCE IN QUEENSLAND?
Response from QBCC on Licence requirements
To construct a water tank on-site in Queensland, you will be required to hold a builder licence or a structural metal fabrication licence. If you were to deliver a tank to a site and place it on a pre-prepared base, then a licence would not be required. If you are building them on-site a licence is required. Information on licensing and the licence classes can be found on the links below.
http://www.qbcc.qld.gov.au/builder-%E2%80%93-low-rise
http://www.qbcc.qld.gov.au/structural-metal-fabrication-erection
If you have any questions regarding the licence application process, please call our contact centre on 139 333.
DOES YOUR WATER TANK LINER INSTALLER NEED A LICENCE IN QUEENSLAND?
This work is considered to be building work pursuant to the Queensland Building and Construction Commission Act 1991 and appropriate licences for this type of work include:
Builder Low Rise;
Builder Medium Rise;
Builder Open;
Waterproofing; or
Plumbing and Drainage.
Categories:
23/10/2017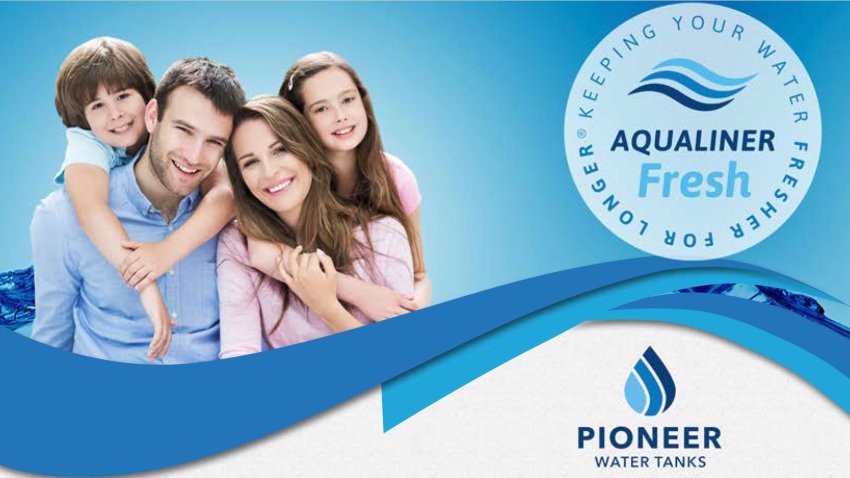 AQUALINER Fresh® tank liner
Keeping your families Water Fresher for Longer!!
Pioneer are excited to announce the launch of the revolutionary new and Exclusive AQUALINER Fresh® tank liner – the world's first antimicrobial tank liner, developed in Australia by the water tank experts.
As always you can trust your families well-being to the number 1 big tank experts, with Pioneers latest development in water tank technology we show once again that a tank is definitely not a tank and that investing in the proven Pioneer Engineering and technology developments has just got a whole lot wiser.
AQUALINER Fresh® is a revolutionary new antimicrobial tank liner which actively works to prevent the growth of bacteria, mould and algae, keeping your water fresher for longer.
Water tank liners are subject to biofilm formation, bacterial contamination is not viable and high levels of bacteria impair hygiene, if your family is reliant on tank water for their drinking needs the best choice is to select a liner that inhibits bacterial growth.
Our new tank liner has been developed in conjunction with Bartlett's Tank Liners and has been years in research, development and testing. It is the culmination of 30 years of continuous research, development and experience and is a global breakthrough in tank liner technology. This is the world's first application of SANITIZED® Swiss antimicrobial technology in a tank liner.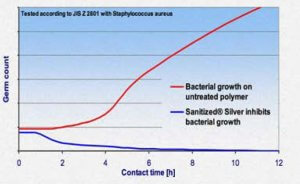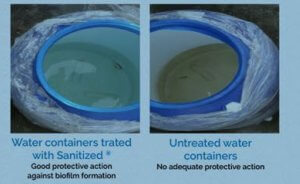 Powered by SANITIZED® antimicrobial technology, the Pioneer AQUALINER Fresh® tank liner offers superior protection from colonisation and reproduction of Algae, bacteria and mounds.
Its never been easier to make the right choice.
Call Divine Today to find our why Pioneer are the number 1 large tank seller in the Australian Market.
Join the Pioneer Family !
Categories:
29/09/2016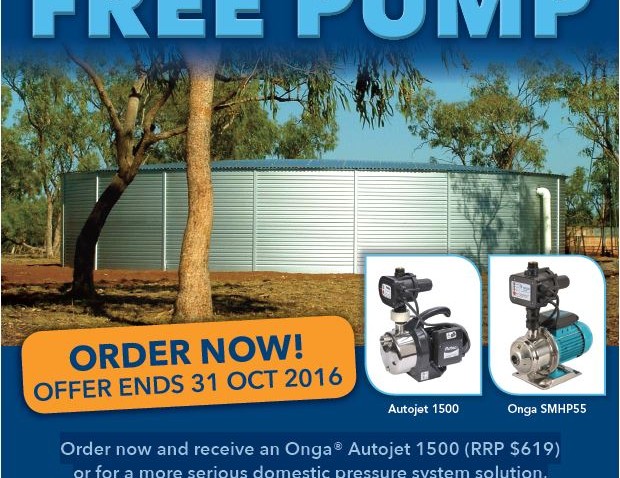 Order your new Pioneer Water Tank in October and receive a free Onga Autojet 1500
Pioneer and Divine Water Tanks are offering a free Onga® Autojet 1500 (RRP $619) or for a more serious domestic pressure system solution, upgrade to the Onga SMHP55 for only $199 (RRP $1,069)* on all Pioneer water tanks ordered between the 1st and the 31st of October 2016.
Order now and pay a small $500 deposit to ensure you are not disappointed and we will install you tank when you are ready. Tanks ordered in October can be install within 4 weeks from order or alternatively we can fit in with your schedule as long as we install by December.
Hurry Order now while Stocks Last!!
Call Divine today on 0405 453 545 or 07 3376 8265
Or if you prefer email
sandy@divinewatertank.com.au
Its nearly summer and those rain clouds will be delivering some more much needed rain, take advantage of mother nature and store your water for those times in need.
Divine Water Tanks are the exclusive distributors for Pioneer Water in Brisbane and Roma and surrounds.
Our team services customers in all areas ranging from the Gold Coast north to the Sunshine Coast and west to Toowoomba as well as all areas west of Taroom, Miles and Goondiwindi out to Tambo, Charleville, Cunnamulla and Barringun.
For customers located in Longreach, Cloncurry, Mt Isa, Windorah and beyond, we work with you to establish cost effective freight solutions.  We know you're pretty far from anywhere but that doesn't mean you need to pay the earth for travel charges.   And, we only charge you once per visit – whether that visit is to install one tank or multiple tanks.
We also reline, reroof and repair existing concrete and steel tanks across Australia, as well as installing light industrial and commercial tanks in a variety of areas – from Windorah to Longreach, Cloncurry and beyond.  If you need water, we'll get a tank to you.